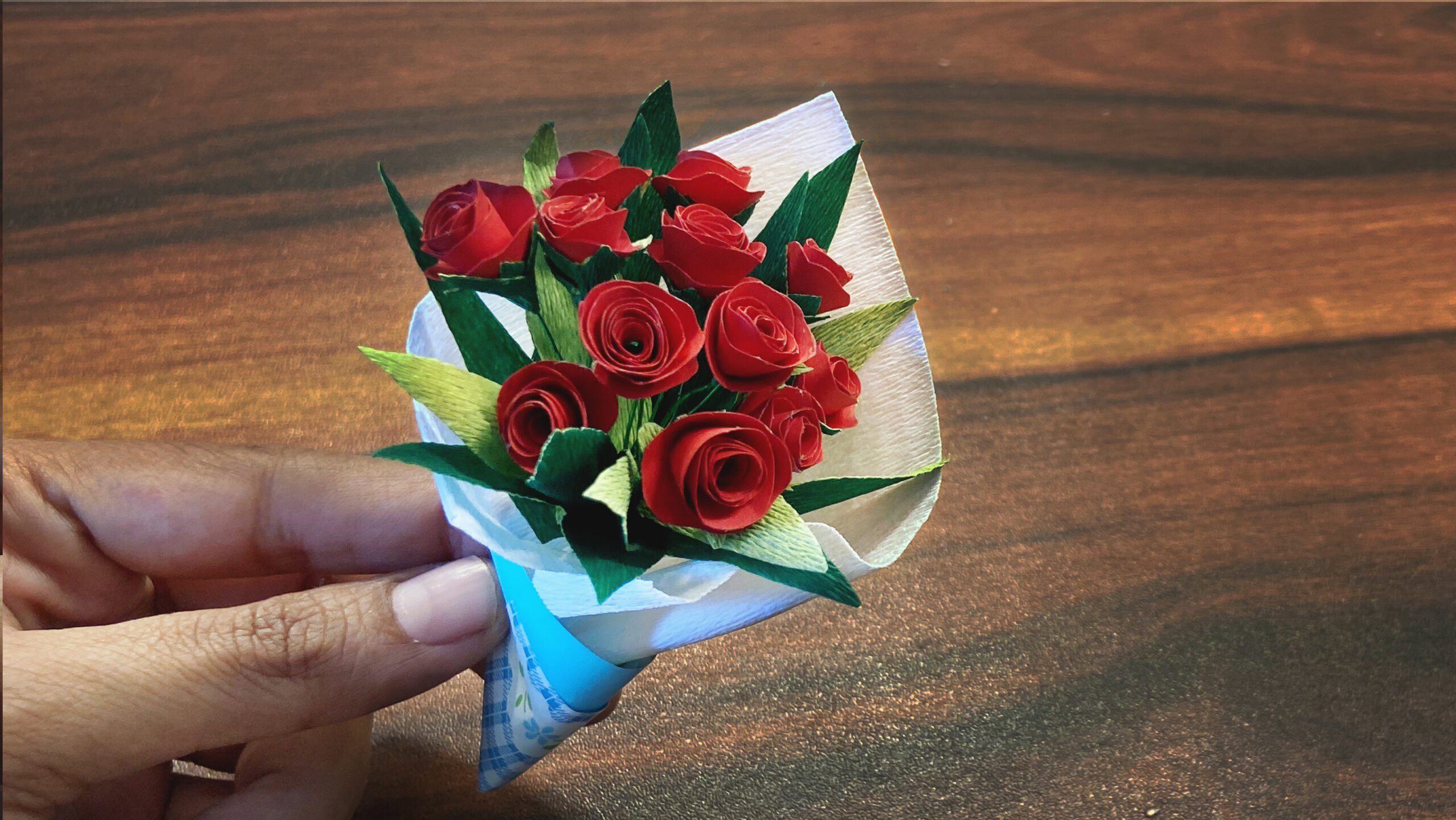 Some flowers never fade away… That's why we love paper flowers so much! There are so many hundreds of ways to make flowers out of all kinds of paper; we'll show you some of the easiest and prettiest ones in this post. We try to work with material that you'll be able to find easily, and standard tools like scissors, pencil and craft glue; you won't need any professional tools, or moulds.
1. Mini Bouquet of 12 Red Roses
Let's start with the tiniest one, shall we? A miniature bouquet of 12 red roses, you could make for a loved one. It makes an unforgettable Valentine's or Mother's Day gift. And will earn you tons of brownie points, not to mention hours of blissful crafting fun! You'll need some red, white and green paper, some craft wire, and glue, and about 2-4 hours. We've got a detailed captioned video for you below. Feel free to shoot us any questions you may have!
2. A Giant Long-stemmed Rose
A single long-stemmed rose has been the purveyor of loving sentiment since like, forever. How about a really giant rose to show some BIG love? Bold move, and one that both the maker and the recipient of the rose will enjoy ???? My giant rose went to my partner and better half, Goody, an anniversary gift made with love and joy.
I made this one from regular 150-200 gsm chart paper. Red for the rose (or any other colour you fancy), green for the sepals, stem and leaf. You'll need a stick at least 4 feet long; now's probably the time to repurpose the pole of that old mop.
Each petal is about A3 size (42 x 29.7 cm), and we've used 10 petals to make the rose shown in the video tutorial below. Switch on your favourite romantic track, put your phone off for the next two hours, and immerse yourself in some big fun!
3. Tissue Paper Rose Wreath
Some months ago, on a rainy weekend afternoon, when we Mumbaikars huddled in our homes while the skies turned liquid, I got out my craft wire, glue, and secret stash of tissue paper (that is never to be used as the makers intended), to make some tissue paper roses. Why roses again, you say? They just never grow old for me! Someone said roses were the only flower which looked better inside the home than on the bushes. For no other flower, would we agree with this… but roses, they are different! Roses on gifts, roses in the hair, roses tucked away in corners of the home and kitchen, just bring smiles. Our work in Sky Goodies tends to feature a lot of roses painted in truck art style, thanks to my soft corner for wild, vibrant, beautiful roses.
I ended up making a little wreath with the tissue paper roses; but really there's no limit to the ways you can decorate with them. They look beautiful as a bouquet, too, and have the added pricelessness attached to hand-made gifts. Not to mention, they last way longer than fresh flowers, and cost a fraction of the price!
Making these paper roses is one simple mindful craft you could do along with a cup of coffee and some music, on a sleepy afternoon, or when you are awake in the middle of the night, you know not why. Each DIY paper flower will take you 5-10 minutes or less. I usually end up making a bunch… one flower leading into another in a free-wheeling satisfying process. If you want to try it out, I've put a video tutorial below, explaining how to make these paper flowers, step by step.
4. Flowers from Tissue Paper
Ages ago, in what seems like another century now, I made these for all my teachers on Teacher's day. This tissue paper flower technique is super-easy; you don't even need glue! Just some craft wire, tissue paper in any colour or print, and a branch or two.
You can make these flowers big, and use them as cheerful floral party decor, or make them small and elegant and add them to a branch in a vase. You can stitch them into pretty garlands, or attach them to stylish hairbands. The possibilities are endless! The video below shows how to make these tissue paper flowers in less than half an hour.
5. Our Crush and Use Wild Roses
If the tutorials above feel like a lot of work and you don't have time right now, here's a shortcut to some pretty floral decor… our crush-and-use wild roses are ready in seconds, and you can decorate your home, walls, dining table, frames, mirrors, gifts… and we could go on, but it would be way more fun for you to find out!
You can order these in packs of 10, along with matching leaves, from our website (Click here and here). The flowers comes flat, and all you need to do is crush them well in your hand, and then open the petals one by one. Really, it's that simple! Watch the video below to see.
6. Paper Flower Fairy Lights
7. Crepe Paper Daisy Flowers
Don't you just love a bunch of pure white daisies? They make me really happy! I had some crepe paper lying around, so I thought I'd make these. You need some craft wire, crepe paper in shades of white, yellow and green, scissors and glue. Put on some nice music, open the windows to let the sun in… and follow the process in the video below to make your own paper daisy bouquet.
8. Crepe Paper Carnation Flowers
Crepe paper is astonishingly versatile, so you can also try making carnations with it. You'll need the same tools as the daisies. Here's a simple tutorial video to make some carnation flowers for yourself or a loved one!
Hope this post helps you guys with some ideas, and nudges you to create some gorgeousness! If you have any questions, do drop them in the comments. For more such ideas and techniques, subscribe to our Youtube channel below. Happy crafting, my lovelies!!
Love,
Misha.